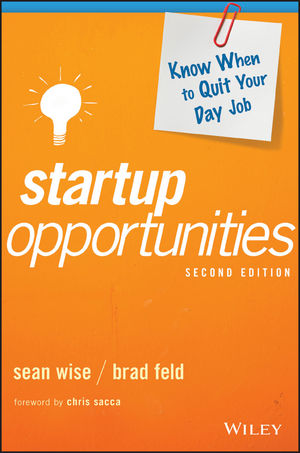 Sometimes a book comes along just at the right time. I'v been exploring an idea for some time now that hopefully leads to a new startup for me, it's exciting. Each time I've done this, I start binge-reading.
A book by Brad Feld and Sean Wise entitled "Startup Opportunities – Know When to Quit Your Day Job" came into view. I actually got roped into helping support the prelaunch campaign and became part of their private Facebook group (which is now public). To be honest, I have no idea how I ended up on their radar, and I didn't really do much. I did buy the book and share a couple social posts. It was interesting to watch Jesse Tevelow, Founder of LaunchTeam, and author of The Connection Algorithm rally the troops.
The book is an extremely relevant and excellent "pre-startup" read with useful short examples. It's an overview of all the current trends in startup methodologies. The book covers subjects like Lean Canvas, Business Model Generation, Nail it then Scale it, Crowdfunding strategy etc. It was the perfect refresher as well as introduction to some concepts I haven't used, most specifically Growth Hacking, which is a variant on earlier Guerrilla Marketing methods, which I have used.
Whether you're a veteran business owner, or looking to explore a new idea, this book will no doubt be of value. It will slide you into those methodologies with far greater focus and more efficient concept absorption and execution. I think it will inspire you.
Here's an Amazon kindle preview for you.